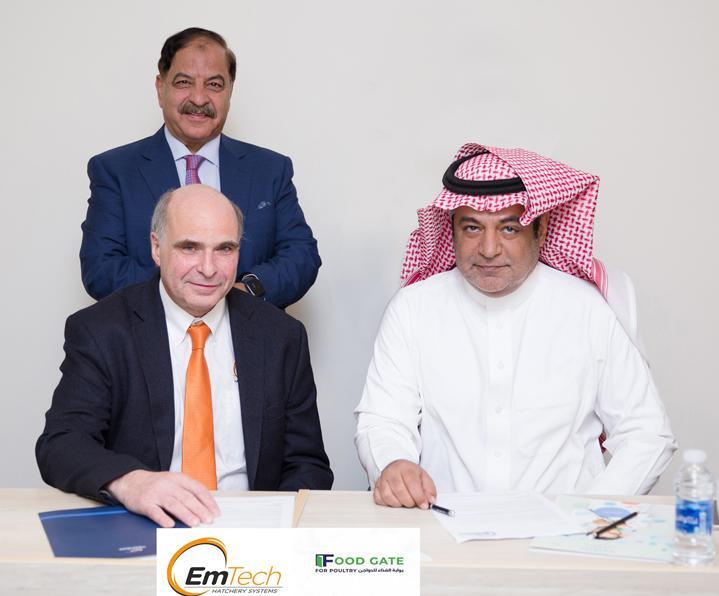 Food Gate Signs Major Order and GCC Agency Agreement with EmTech Hatchery Systems
After long and constructive discussions since March 2021, Food Gate Poultry and EmTech Hatchery Systems have reached an agreement for a major new
hatchery project in the Kingdom of Saudi Arabia and the Agency to represent EmTech in the Gulf Cooperation Council (GCC) group of countries.
Welcome to EmTech Hatchery Systems
Having been founded on a wealth of experience and collective knowledge we at EmTech recognise the importance of getting
the best results – not only from new equipment but from your existing systems too.
EmTech's creativity, excellent products and hatchery results have resulted in many valuable orders worldwide, cementing EmTech's
place as one of the leading and most dynamic incubator and hatchery ventilation suppliers in the market today.
Nature made it simple, so why make Life complicated?

---
EmTech – Where Welfare Matters
---
THE ECLIPSE PLC CONTROL SYSTEM
The Eclipse® incubator control is our premier system. It is based on a PLC platform for the ultimate in incubation control and energy efficiency. It is a highly intelligent system that constantly analyses the incubation environment. The interface is a user-friendly 5-inch intuitive high-quality touchscreen.
"We have just started the new extension that will take us well into 2017. We took the decision to work with a British hatchery supplier, Emtech. We have used this company in the past two years on smaller projects and have been very impressed with their installations, equipment and their experienced team." – OmeadSerati, Managing Director of Hy-Line UK
"The EmTech team and the superior quality of their hatchery equipment, impressed us immensely. We knew that EmTech is a young company but were also well aware of their team's reputation and pedigree in the poultry business over the last 25 years." – Gijs Schimmel, President of Centurion Poultry
"We were looking to expand our hatchery business and looked at many suppliers. We chose Emtech to supply our new machines as the machines are not overly complicated. They have been able to customise the machines to our requirements, we have been very impressed with the quality of the finish, the prompt delivery and the enthusiasm of all of the staff. We are only a small hatchery but have always felt like an important customer and have received exceptional after sales service. It is an added bonus that they are local. Furthermore, our first two hatches of the season have shown an increase in hatchability of 15% and 22% so a very happy customer." – Yvette Milton, Newland Farm Geese