Welcome to EmTech Hatchery Systems
Founded on a wealth of knowledge and experience, we at EmTech understand that temperature uniformity is critical
for incubation excellence. That is why 'zero-point-six' isn't just a slogan, but the operational premise at EmTech Systems.
The world is paying attention as we continue to deliver and exceed the high-performance expectations of our industry.
Our team of experts are well qualified to help with all new projects and to vastly improve the results at existing ones.
"Setting New Standards"
---
EmTech Hatchery Systems presents at the
Multiregional Technical School in Istanbul, Turkey
It was a great pleasure to sponsor and present at the Hy-Line Technical School in Istanbul last week.
Thank you Hy-line for this great opportunity, with special thanks to Matthew Godfrey of Hy-Line UK,
who supported us in this joint presentation.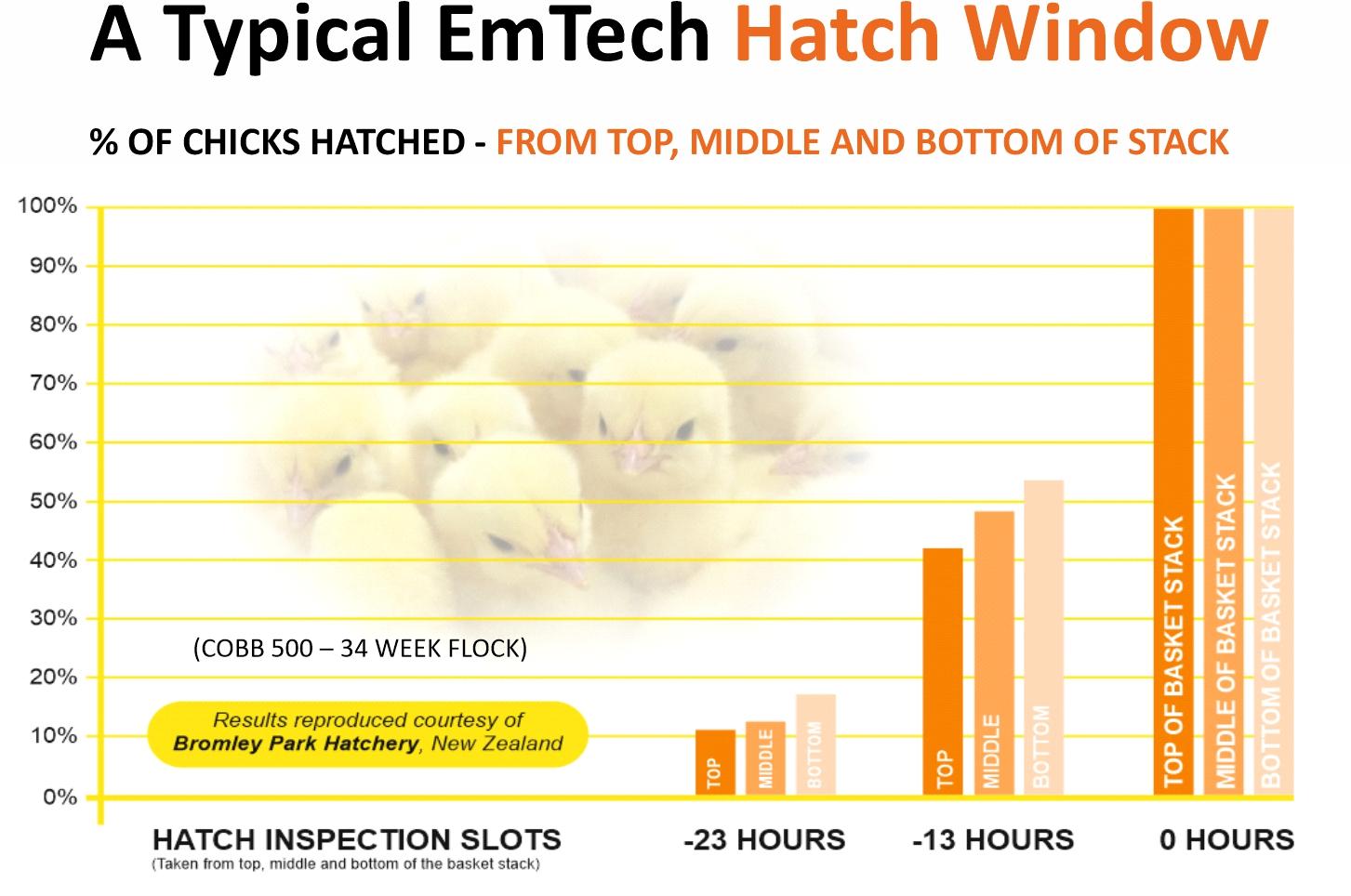 Hatch window (for % eggs hatched)
This graph shows the typical hatch window and represents the accumulative number by percentage to show the % of chicks hatched from the entire egg mass from the onset of piping. The very tight temperature controls result in a condensed hatching period. Typically, from EmTech incubators this is less than 24 hours but the majority hatch within a 12-hour period to ensure your chicks are better conditioned, less stressed and more able to withstand the rigours of the growing farm.
Flock Hatchability Performance
Based on four months data from the BroMargo Hatchery in Poland, this graph shows the performance of EmTech single-stage setters and hatchers over three flocks compared with the Aviagen standard performance for Ross 308. As you can see, the results are excellent, especially in the early and late flocks where many other incubation systems struggle to reach target figures.
Temperature Bandwidth
The graph shows the very tight temperature spread of the air surrounding the egg mass – what we call the 'temperature bandwidth'.  The bandwidth is around 0.1°C early in the single-stage process but quickly increases as the embryos develop. EmTech's well sealed cabinet and optimum airflow facilitates correct moisture loss and heat transfer from the egg mass while ensuring the bandwidth never exceeds 0.6°C. The result is well conditioned, unstressed chicks that hatch in a tight window.
THE ECLIPSE PLC CONTROL SYSTEM
The Eclipse® incubator control is our premier system. It is based on a PLC platform for the ultimate in incubation control and energy efficiency. It is a highly intelligent system that constantly analyses the incubation environment. The interface is a user-friendly 5-inch intuitive high-quality touchscreen.
"We have just started the new extension that will take us well into 2017. We took the decision to work with a British hatchery supplier, Emtech. We have used this company in the past two years on smaller projects and have been very impressed with their installations, equipment and their experienced team." – OmeadSerati, Managing Director of Hy-Line UK
"The EmTech team and the superior quality of their hatchery equipment, impressed us immensely. We knew that EmTech is a young company but were also well aware of their team's reputation and pedigree in the poultry business over the last 25 years." – Gijs Schimmel, President of Centurion Poultry
"We were looking to expand our hatchery business and looked at many suppliers. We chose Emtech to supply our new machines as the machines are not overly complicated. They have been able to customise the machines to our requirements, we have been very impressed with the quality of the finish, the prompt delivery and the enthusiasm of all of the staff. We are only a small hatchery but have always felt like an important customer and have received exceptional after sales service. It is an added bonus that they are local. Furthermore, our first two hatches of the season have shown an increase in hatchability of 15% and 22% so a very happy customer." – Yvette Milton, Newland Farm Geese