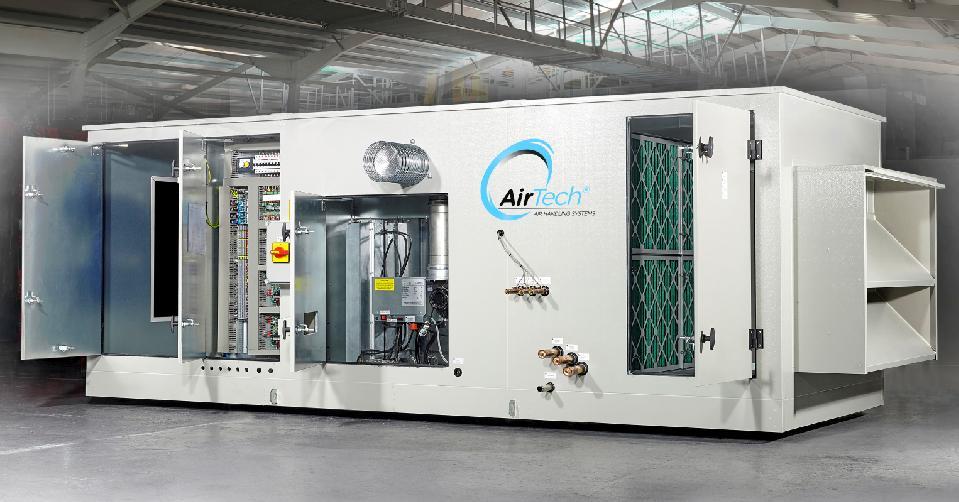 EmTech offers a wide range of AirTech™ Systems in a variety of configurations designed and manufactured to provide hatchery Air Handling solutions with energy efficiency, reliability and longevity.
All of our AirTech (AHU) Systems incorporate the latest construction techniques, components and control technology. There are multiple airflow and unit configuration options and can be integrated into new or existing facilities and are designed to optimise system performance and minimise installation and building costs.
AirTech units are constructed using tried and tested, double skinned, fully insulated, casework as standard.
They fully comply with BS EN1886:2007 mechanical performance regulations and all are independently tested in accordance with these standards.
Regardless of whether it's an indoor or outdoor unit, side-by-side or stacked, floor or roof mounted, EmTech will ensure that they will design and supply exactly the right solution. Component selection and control protocols are specifically chosen to ensure optimum efficiency and performance. All AirTech units also fully comply with the latest ISO/BS/EN standards and ErP Eco-Design directives and built in accordance with ISO 14001:2015 environmental standards.
Key Features
* Multiple Direct Drive Fans – for redundancy and reduced maintenance
* Matches the demand for ventilation based on the needs and requirements of the Incubators with EmTech Variable Volume Control
* Configurable for dehumidification in hot humid climates and heating for colder locations
* Modular Design – built to be positioned outside saving valuable building space
* Designed for minimal operator intervention
* Automatic alarms for faults
* High efficiency EFF1 Motors to reduce operational costs
* Utilization of Primary Heat Recovery to minimise energy usage
* Can be integrated into existing hatcheries whether it's an indoor or outdoor unit
* Can be supplied in flat pack format for existing hatcheries where access is difficult
* Comprehensive range of heating options including Primary Heat Recovery, gas, water and electric